Learn more about the telegram bots
What if bot makes a mistake
Mistakes happen to even the best. Sometimes it could be over eagerly AI calling normal picture of someone's tattoos "not safe for work", sometimes it's a link to the same group but to a specific message. If this happened to your user - we are deeply sorry. We will try to explain here how to mitigate this, remove the penalty and make sure that it will not happen again.
---
Fixing bot mistakes
Visit your group administrator panel and head to the penalties section. You can find there all the punishments issued by the bot in your group. Find the punishment of the interest and have a look at its content. Does the punishment reason make sense with the message sent by the person? If you still think it's a mistake - tap on information button next to the punishment - it will open the window with more detailed description. At the bottom you'll have "information for support" section. Copy content of this section and visit the official telegram-bot.app support group. Ask for help with wrongly issued punishment and paste this information.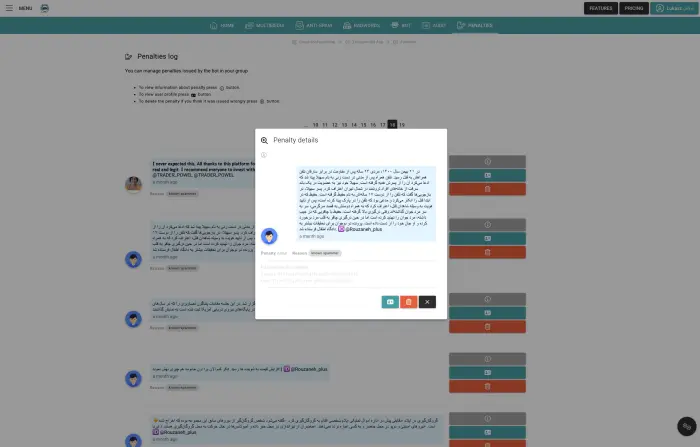 I just want to remove punishment
If you don't want to go through the hassle and you think it's one time mistake, or bot was right but you want to remove the punishment - press bin icon instead to delete punishment instantly. After you'll do it - support will not be able to help you with figuring out why your user was punished.
Payments and subscriptions