Learn more about the telegram bots
Purchasing the premium plan
You can decide if you want to stay on the always free plan without any subscription - in this case, you don't need to do anything. If you'd like to enable additional anti-spam and content filtering superpowers for the bot you can choose the plan which suits you best. The payment options you have are the single payment when we will charge you once and the plan will be valid for a month or the recurring options - which will renew automatically every month or year. The longer you purchase your subscription the cheaper it will become. You can switch the desired premium subscription type ( either one time or recurring ) just above the list of subscriptions. You can proceed to purchase ONLY after you are logged in, otherwise, the button will remain inactive.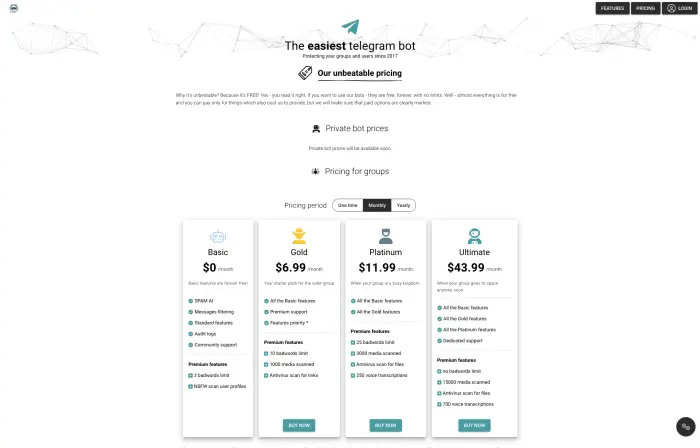 ---
Why should I buy premium plan?
If you wonder why should you purchase premium for our telegram bots - we've got a few reasons.
Premium provides features which we also need to pay for ( either for the processing power or the bandwidth). As much as we'd love to provide them for free to anyone - we are unable to operate as a charity and pay from our own pockets.
We have a lot of bots and we want to make sure that all of them are working as well as possible. This requires us to have appropriate infrastructure, networking and security which costs real world money.
Development of the bot is for free as we take care of it, but it means - spending endless hours on the new functions and maintenance. Just so you know - currently all the microservices and libraries we created ( excluding the website ) are a bit over 1 million lines of code. We consume incredible amounts of redbull and coffee during the process as we work on it in the evenings and weekends.
If none of the above touched your heart - you can always purchase the premium because you appreciate our work on making Telegram Groups a better place.
I have picked the plan, now what?
After you made choice of which plan you'd like to purchase - you can add groups to the plan. We will provide you with the list of groups you are an active administrator on and groups with already applied subscription plans will be clearly marked. Every group added will increase the total order cost.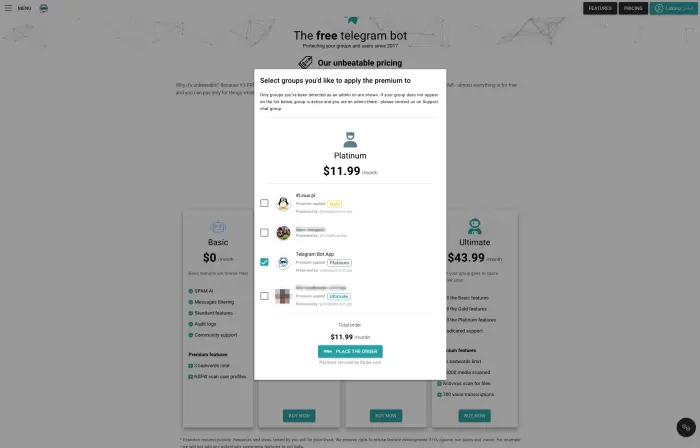 How do I know it worked?
Once we receive confirmation from stripe.com that your payment was successful we will set everything up. On average it takes about 10 seconds but there may be temporary delays which we don't have an influence on. After the premium plan for your group becomes active your group will be marked as premium ( with the plan name ) and you will be listed in the panel for other admins to know who's the real boss.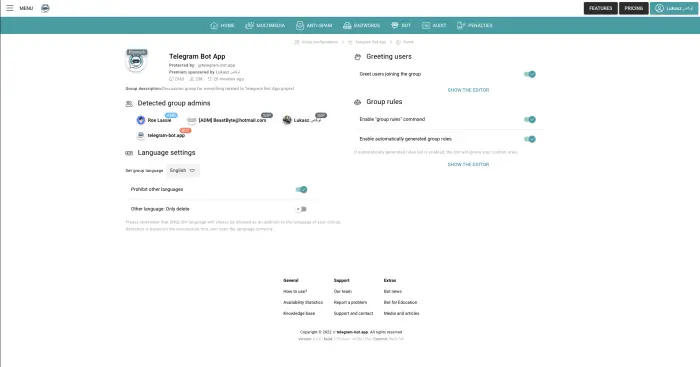 Payments and subscriptions