Learn more about the telegram bots
Managing your subscriptions
You can manage your subscriptions in easy to use way. After logging in in the upper left corner of your panel, you can pick the "Manage my wallet" option and see all your active subscriptions in one place. You can either cancel the subscription or update your billing details, for example, card number, payment method or billing address. For a one-off payment, you can view the receipt ( you will be redirected to stripe.com ), and they do not renew automatically. For the subscriptions which renew automatically, you can use the "manage" button ( again, you will be redirected to stripe.com ) to update the subscription. You can also view the groups your payment is attached to.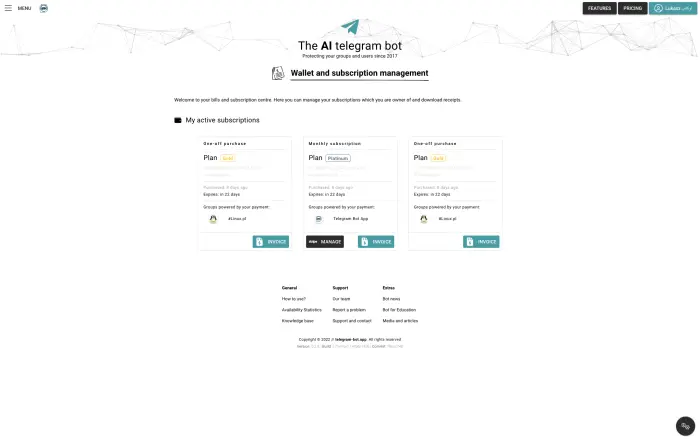 How long is my premium valid for?
One-time and monthly payments: Premium is valid for one month, limits apply monthly.
Yearly: Premium is valid for one year. All the scanning limits can be multiplied by 12 as the payment covered period of 12 months.
Examples
You have purchased monthly Platinum subscription which have limit of 3000 media files scanned. The usage will reset every month on the day of your initial purchase. If you will use more than 3000 media files - bot will refuse to scan new files until the counter resets.

You have purchased yearly subscription which have limit of 15000 media scanned monthly. This allows you to scan total of 180000 media files every year. In this case if one month you will use 1000 files, the other month 50000 files - bot will keep scanning until you will reach the limit.
Payment updates for monthly and yearly
We do not hold your payment details for the security reasons and whole payments system is managed by stripe.com. To update your payment details - for example credit card number or address you should visit "Manage my wallet" section of your panel, click on manage subscription and after being redirected to Stripe - you can update the details as you wish.
Payments and subscriptions